Family GP surgeries in and around Tunbridge Wells have been given a clean bill of health by their patients in a recently published national survey, with all Tunbridge Wells surgeries equalling or surpassing the national average.
The survey, conducted on behalf of the NHS, saw researchers send out questionnaires to around 1.32 million people nationally, with over 7000 responding in the West Kent region.
Most outstanding in the town was Kingswood Surgery, located near Dunorlan Park, with 99 per cent of their patients describing the overall experience of the surgery as 'good'.
But Kingswood's performance was indicative of the high scores achieved by all surgeries in Tunbridge Wells, a majority of which received an overall satisfaction rating of over 90 per cent, far above the national average of 85 per cent and the West Kent average of 88 per cent.
The annual survey measured patient's satisfaction with a variety of factors including waiting times, ease of making an appointment and frequency of talking to their preferred GP.
While the results indicate a high level of performance from the area's surgeries, patients also highlighted a number of areas where there is significant room for improvement.
When patients were asked if they usually wait 15 minutes or less after their appointment time to be seen, six surgeries fell below the national average of 65 per cent, with the Groombridge and Hartfield Medical Group receiving the area's lowest score of 50 per cent.
The often frustrating process of making an appointment on the phone appears to be reflected in some surgery's results. For example just 57 per of Saxonbury House's patients said they found it easy to get through to reception staff.
Tonbridge received a more mixed response, with their Medical Group's performance falling well below the national and local average in a number of categories including waiting times, being seen by their preferred GP and getting through on the phone.
Although it wasn't all doom and gloom for the town as their Warder Medical Centre received an excellent 93 per cent overall satisfaction rating.
Dr Bob Bowes Chair of NHS West Kent Clinical Commissioning Group described the results as  'very encouraging', adding: "GPs place great emphasis on ensuring that a patient's experience is as positive as it can be and I am pleased to see that reflected with positive feedback."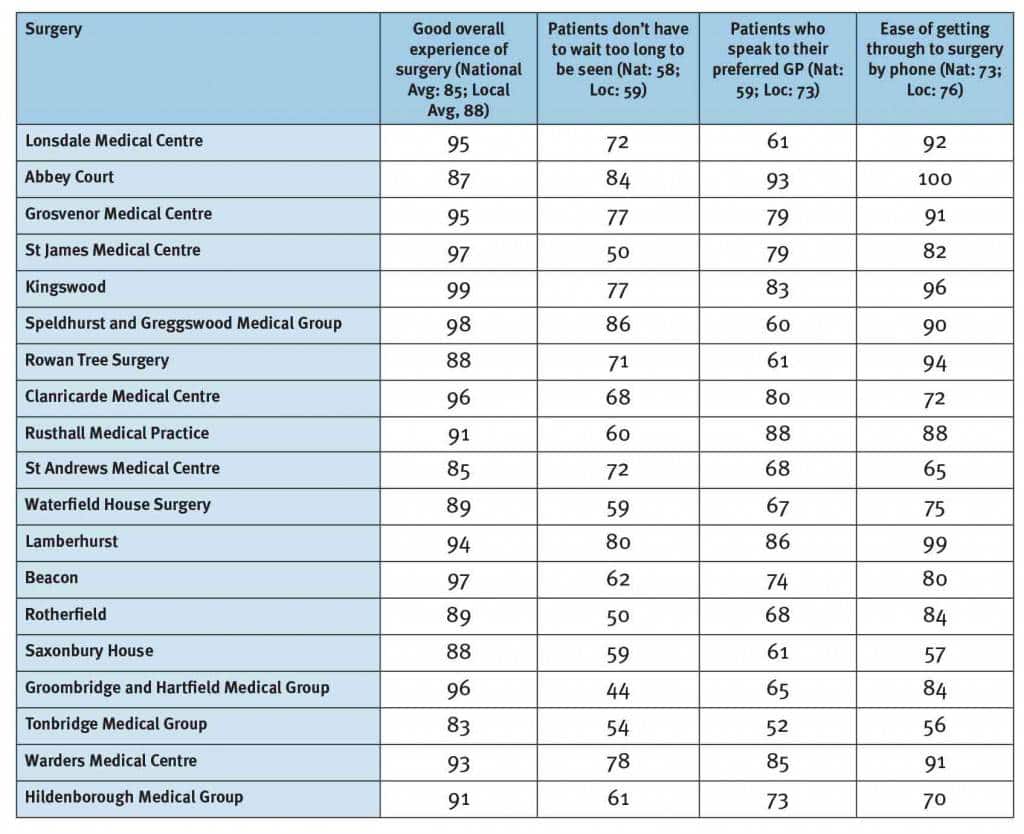 These figures are based on the responses of patients to the annual GP Patient Survey. All figures are expressed in percentages. Full statistics available at: www.gp-patient.co.uk