TWO Tunbridge Wells-based police officers have been recognised for their work in the community at a Kent Police awards ceremony.
Constable Chloe Youngs was commended at the West Division awards for her actions that helped save the life of a one-year-old girl on May 4 this year.
PC Youngs assisted paramedics treating the youngster for cardiac arrest at a public park by performing CPR and first aid on the child.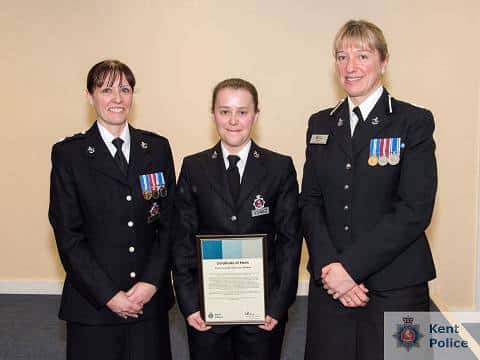 She was presented with a certificate of merit by Chief Superintendent Julia Chapman, the commander for Kent Police's West Division, at a ceremony in Aylesford Priory on December 14.
In addition, Police Constable Reece Hinton was awarded a certificate of merit for his actions in protecting the life of a vulnerable a 93-year-old woman in Tunbridge Wells after hearing of concerns for her welfare.
PC Hinton resorted to forcing his way into her house on July 1 where he found her collapsed. The PC called an ambulance and the pensioner was taken to hospital.
However, when he re-visited her house the next day, he found her collapsed again and provided first aid until ambulance crews arrived and medical professionals commented that, had it not been for his actions, there could have been serious implications for the woman's health.
Chief Superintendent Julia Chapman said: "The contributions made by the people awarded on this night are wide-ranging and highlight the many different requirements of local policing.
"Each day officers face difficult, unpredictable and potentially dangerous situations. They do this with the utmost professionalism and often go above and beyond what is expected to protect and serve the public.
"It is only right that their outstanding contributions to Kent Police are recognised."