An investigation has been launched by Network Rail after the cancellation of trains between Tunbridge Wells and Tonbridge during the height of yesterday morning's rush hour.
Travel chaos gripped both towns and their surrounding areas as gridlock on the roads compounded the situation, leaving thousands stranded for hours on their way to work.
Commuters quickly took to social media to vent their frustration, as 24 trains between 5.20am and 12.21 were classed as either cancelled or 'disrupted'.
Sarah Owen on Twitter described the contingency plans for disruption on the rail network as 'shambolic', while Julian Childs described the situation as 'a joke', adding: "Constant apologies wear thin."
Lucy Hayball, also on Twitter, said: "Going to be over an hour late on my second day thanks to trains… not exactly how I wanted to start my day."
Network Rail said the six hours of delays were caused after a 'crucial'Â piece of railway equipment had been damaged by an engineering train during the early hours of the morning.
This led to hundreds of commuters queuing at Tunbridge Wells, Tonbridge and High Brooms stations, in the hope of continuing their journeys by replacement bus.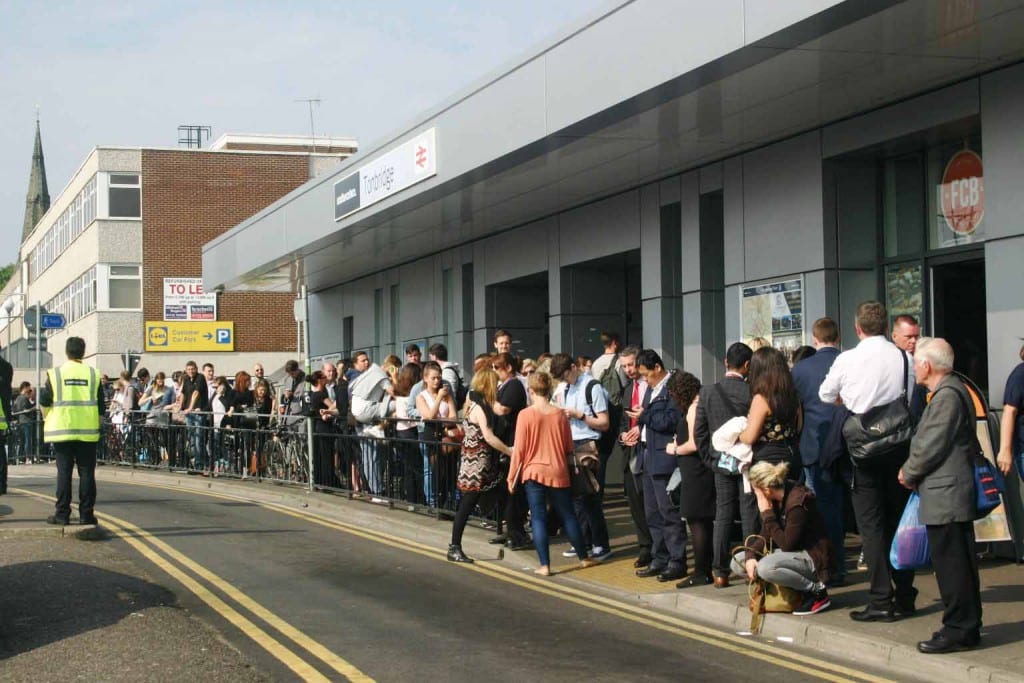 However, the buses proved ineffective as gridlock and tailbacks mired the road network, leaving even Kent Police and the borough council at a loss as to why the situation was so dire as 'no accidents' had been reported.
Motorists, for example, were taking up to an hour longer than normal getting into town with queues stretching down Pembury Road and on to the A21.
The atmosphere at Tunbridge Wells Station was described as one of 'resignation' rather than anger by commuters, many of whom were there for some hours.
Commuter Harry Molyneux, who was heading for London, had been in line for a bus for almost two hours when he spoke to the Times.
He said: "Everyone has been calling into work and I have seen several people give up and go home.
"The queue doubles back on itself three times before splitting, with one section going over the footbridge and the other heading towards the iron road bridge.
"It's a bit like being in a queue for Thorpe Park, but instead of going on rides we are trying to get to work, which is a lot less fun. It's a nightmare."
Julia Woodbridge, a civil servant from Hastings who had been in line for an hour, said she had already missed two important meetings due to the chaos, adding: "They said there are six replacement buses but I have only seen one since I got here.
"What is really annoying is they are now giving people advice to go down to Hastings and take a service to London Victoria. Hastings is where I started out."
A spokesman for Network Rail said: "Network Rail would like to apologise to all passengers who endured a dreadful journey to work.
"An engineering train damaged a crucial piece of railway equipment at Somerhill Tunnel, where the two tracks temporarily merge into one, just outside Tonbridge in the early hours.
"This meant that no trains were able to run between Tonbridge and Tunbridge Wells in either direction."
HOW TO CLAIM COMPENSATION:
Southeastern urged customers to seek compensation via its Delay Repay programme. This entitles passengers to refunds for delays over 30 minutes against the published train schedule. Those making a claim must do so within 28 days of the delayed journey and provide proof of travel. Delays of two hours or more warrant a 100 per cent refund. See: www.southeasternrailway.co.uk/contact-us/delay-repay