What clever timing for the locally-made Pipehouse Gin to officially launch just ahead of the first Tunbridge Wells Gin Festival, which kicks off this weekend on The Pantiles. Here, its co-director, Katherine Larcombe, tells William Mata all about what makes their new tipple so special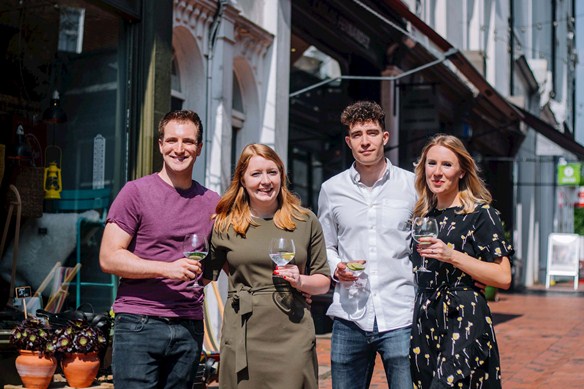 PIPEHOUSE GIN DIRECTORS: (L-R) Sam & Emma Priestley, Ben & Katherine Larcombe
How would you describe Pipehouse Gin?
It's certainly not your average gin. Pipehouse is all about creating unusual flavour combinations that work. Our first is Earl Grey & Cucumber. It's a classic London Dry, but the herbal notes of juniper (the main botanical in gin) are followed by cucumber, and the Earl Grey tea comes with an almost sorbet-like freshness.
Who is behind the project, and how did you get started?
Myself, my husband Ben, and our friends Sam and Emma Priestley. It was Sam's idea to start making gin, it's something he's wanted to do for ages. He mentioned it to us about seven or eight months ago and it seemed like the perfect project. We were all instantly excited and started dreaming up flavour combinations, bottle types, and brand names. We've learnt so much along the way.
What were you doing before you decided to launch Pipehouse?
I was a secondary school art teacher, and my husband Ben still works as a table tennis coach. Emma was a marketing manager at Price Waterhouse Coopers prior to launching Pipehouse, and Sam runs his own entrepreneurship blog.
How does the company work, and who takes which role?
We are all equal partners and have invested the start-up money ourselves. Unlike more traditional companies, we don't have positions that are set in stone. Everyone pitches in, sharing the logistics and management tasks.
Why do you think gin is so popular at the moment?
Firstly, because it's such a great drink, but we think it's also largely due to the change in legislation surrounding gin. Before 2009 it could only be produced in massive quantities, so only really large companies were able to compete.
The change in litigation was a pivotal point and made way for an exciting new generation of craft distillers, including us! It's this that paved the way for there to be so much creativity within the gin industry, which has made it really appealing.
What are your hopes for your first year in business?
We have so many hopes, and have already ticked a few off our wish list – managing to get on to a distributors' list, and having several bars agreeing to stock us. But we mainly hope people will love our gin!
And what ambitions do you have now?
We want to keep exploring new and unexpected flavour combinations, and have so many ideas of what we want to create next. Hopefully, there will be a whole range of new flavours coming soon.
How old are you and have you seen a rise in young entrepreneurs?
We're all under 30 and I'm the youngest, having just turned 27. There seems to be more young people starting their own business and talking about making the leap.
I think it's a really exciting prospect, and hopefully we'll see it more and more.
Tunbridge Wells has so many interesting independent businesses, and there is a great network of creative and entrepreneurial people here.
Why is it so special to be making and launching Pipehouse in Tunbridge Wells?
It's been so encouraging for us to see just how many local people and business owners have been excited about Pipehouse. We really couldn't think of a better place to be launching, and we're so proud to have Tunbridge Wells on the bottle.
Pipehouse are officially launching today at Chapel Place Wine Bar, Tunbridge Wells, from 6pm. Please feel free to go along and enjoy a sample