So Magazines' Fred Latty speaks with Ali Ditzel and Victoria Henderson, organisers of the upcoming Chiddingstone Castle Literary Festival, taking place over the Bank Holiday weekend 6-7 May.
What can audiences expect from this year's literary festival at Chiddingstone, and what do you hope they'll take away once they've been?
This year's festival is designed to truly offer 'something for everyone', with a deliberately eclectic mix of renowned writers on a range of subjects including biography, memoir, history, medicine, fiction, crime, poetry, science, politics and children's books.
To ensure it's a family affair, there will also be children's theatre performances, puppetry, life drawing classes, Early Man clay modelling, magazine-making and creative writing workshops.
Visitors to the festival can also tour the Castle's collections of art and antiquities and enjoy a range of delicious food and drink throughout the day. Audiences will enjoy up close encounters with quality speakers on a wide range of topics who will inform, entertain and provoke debate.
Talk us through some of the standout authors, illustrators, poets and performers not to be missed by visitors
This year's impressive line-up is a measure of our growing stature and we're thrilled to welcome some top names including the UK's no 1 crime writer Ian Rankin, BBC2's Newsnight anchor Evan Davis, the launch of multi-million seller Kate Mosse's new historical trilogy, BBC Radio 4's presenter of The Life Scientific Jim Al-Khalili, award-winning cookery writer Diana Henry, bestselling author, and ex-junior doctor and comedian Adam Kay.
We are especially looking forward to a conversation between ex-police commander John Sutherland and ex-convict Erwin James about the consequences of a life in crime on their mental health.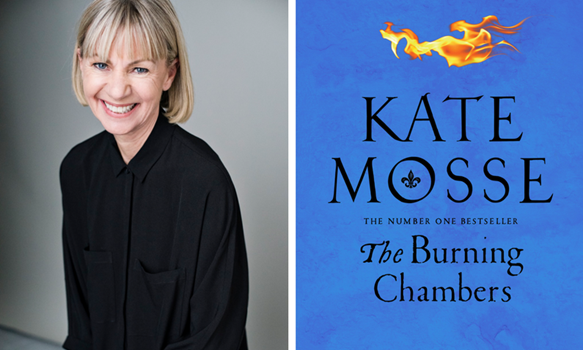 Kate Mosse will be launching The Burning Chambers at Chiddingstone Literary Festival
Will there be lots to see and do for kids and families, as well as more grown-up literature fans?
Bank Holiday Monday is our Family Day and we have lots of events for all the family. Little ones can meet lovable bear Hugless Douglas and his creator David Melling, along with Children's Laureate Lauren Child, creator of Charlie and Lola, our second Laureate to appear at Chiddingstone in three years.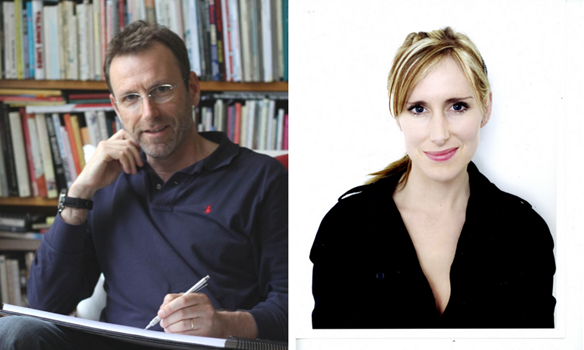 David Melling (left) and Lauren Child (right) will be attendance at Chiddingstone Literary Festival
We have a musical puppetry performance of a classic Romanian fairy-tale The Promise of Everlasting Youth, Early Man modelling with Aardman Animations, story writing workshops, and a concert by Leigh Ladies Choir.
For teenagers and adults there's an opportunity to hear leading scientific experts Jim Al-Khalili and Sir Nigel Shadbolt discussing the future of science and Evan Davis on the subject of Post Truth, fake news and what we can do about it, as well as a festival exclusive – the launch of bestselling author Kate Mosse's latest historical fiction trilogy.
There'll be lots to eat and drink from the Castle tea rooms and our selection of vintage food vans.
What makes the setting of the castle so special and fitting as a backdrop for the event?
The Castle provides a perfect setting for the literary festival with events taking place in two marquees on the Castle lawns, in the beautiful Orangery and inside the Castle's elegant White Rose Room. In the Great Hall our festival booksellers Sevenoaks Bookshop set up shop and host our authors' signing sessions.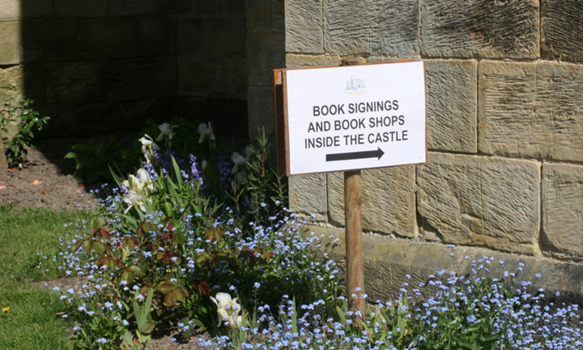 Sevenoaks Bookshop, inside the castle, will be the home of author signings at Chiddingstone Literary Festival
There's plenty of room for parking and if the weather's fine visitors can enjoy a stroll through the bluebells and around the lake.
Festival ticket holders can also view the Castle's superb collection of Japanese, Buddhist, Jacobean and Egyptian artefacts and relish tea and cakes in the tea rooms and courtyard.
In what ways does the festival offer something different from other local arts and culture festivals, and help to bring books and literature to the fore for local audiences?
Our aim is to provide a long weekend's escape into a world of revelation and debate; with wit and wisdom, comedy and tragedy, stories of great lives well lived, lessons learnt and objectives achieved.
Our Schools Programme on Tuesday 8 May brings local pupils into contact with some of today's best writers for children.
This year we are thrilled to hear from Cressida Cowell, author of How to Train Your Dragon, talking about her new series The Wizards of Once. Abi Elphinstone, award-winning writer of Sky Song, Tunbridge Wells author of The Secret Diary Series, Philip Ardagh, and writer/illustrator team Guy Bass and Pete Williamson, creators of the Stitch Head series.
For Key Stage 1 children we have performances by Perrier-nominated comic Andrew Clover and children's theatre company Really Big Pants.