THE Tunbridge Wells Half Marathon has been a major event on the local sporting calendar since the early Eighties, and down the years the race winners have come from all over the UK.
But the only father and son combination to win the race are both Tunbridge Wells residents. Cain Bradley, now 56, was first over the line in 1985 while his 30-year-old son Dan was triumphant 30 years later in 2015.
Both are members of Tonbridge Athletic Club and below they recall their preparations and race-day thoughts ahead of their respective victories.
Cain: It was May 1985 and I was living in Southborough and so could walk to the start after my usual pre-race breakfast of cereal, toast and coffee.
I had run the Half Marathon the previous year and finished second so I knew what to expect of the course – the big hills around Penshurst and Fordcombe and the surprisingly undulating run in from Langton.
I had been training well and had raced every weekend since the start of the year, recording a personal best two hours 24 minutes three weeks before the race.
Dan: In 2015 I was also living close enough to the race to walk to the start. Like dad, I had been training well and had won two road races (a five-miler and a 10k) in the weeks before the Half Marathon.
I had run the Tunbridge Wells 'Half' a few times before so I knew the course pretty well. My race-day breakfast consisted of a bowl of cereal and a hot drink.
Cain: As I warmed up on the day, I knew that the runner who had beaten me the previous year wasn't racing this time.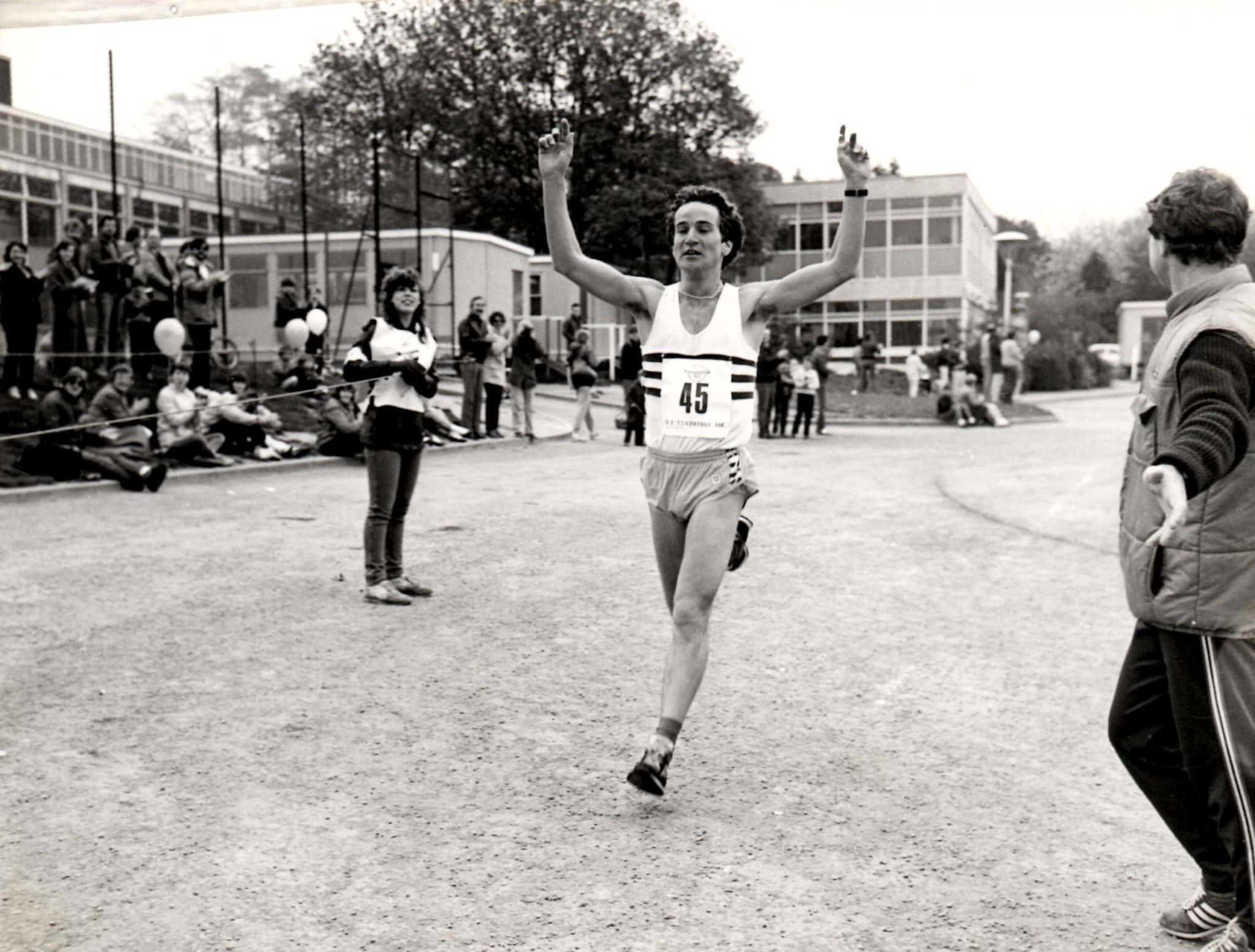 But there were still a number of guys who I knew could push me hard including some of my own team-mates from Tonbridge AC.
Dan: I had seen the list of starters before I warmed up and had not spotted any of the top UK road racers.
However, several of my club team had run well previously over the distance, including Julian Rendall, who had won the race on more than one occasion.
Cain: The race went much as expected and by the time we reached the eight-mile mark, there were just three of us in the leading group.
I had got up the big hills quite well but was hanging on a bit on the last little climb on to the Langton Road.
My team-mate, Pete Mason, dropped off the pace through Langton, leaving just two of us at the front.
We ran side-by-side past the Spa Hotel and the old Kent and Sussex Hospital and on to St John's Church.
I knew I had to accelerate at some stage to get the win so I upped the pace at the FTA building with about 600 metres to run.
I then pushed hard all the way to the finish line to win by a few seconds. I had won a few road races before but this was different, being on my home patch.
Dan: I ran with the leading pack right from the start and at three miles decided that I could probably push on a bit harder.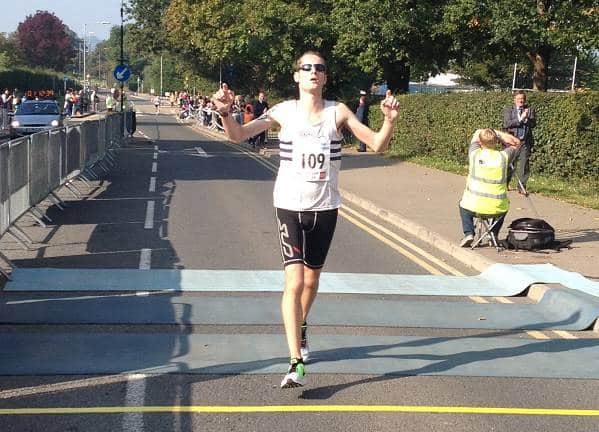 Instantly I found that I was clear of everyone else. The good news: I was in the lead. The not so good news: I would have the run the remaining 10 miles alone without fading.
Dad was out on the course supporting at around 11 miles and told me how much of a gap I had on second place.
It was only when I reached the entrance to the Sports Centre with about 300 metres to run that I could relax and enjoy the win.
Cain: My training diary suggests I recovered quite well from the race. I ran about 50 miles a week for the next three weeks and then raced a hot and hilly Maidstone Marathon, where I finished fifth.
I'll have another crack at the race.
I matched dad's victory but
I have not yet bettered his time!
Dan: I dropped straight back into my training schedule after my win – running about 60 miles a week. My success on the roads continued with a fast 10k in a high-quality race at Eastleigh a few weeks later.
Cain: I still run most days but the distances and the pace have reduced considerably. It has been a few years now since I completed a half marathon but I'm not ruling out one day getting fit enough to get round the Tunbridge Wells Half again.
Dan: I won't be in the 2017 TW Half as it is only a few days before the national cross-country championships and I wouldn't be able to recover properly in between.
But I'm sure I'll have another crack at the race. I matched dad's victory but I have not yet bettered his time!
To enter the race on February 19, visit www.twharriers.org.uk or www.race-nation.com
Two weeks to go: How to cope with aches and injuries
The fourth in our series of training tips for those wanting to run the Tunbridge Wells Half Marathon
WITH any activity where you are pushing yourself to improve your fitness, speed or both, you can expect your body to feel sore when you are training for the Tunbridge Wells Half Marathon.
Knowing what's par for the course, when you should rest and when you might need to seek professional advice can help you minimise the risk of serious injury and keep you on track to complete the race.
Following a heavy exercise session, it's quite common to feel soreness the next day or even 48 hours afterwards.
"This is known as Delayed Onset Muscle Soreness, or DOMS for short," explains Jane Dew, a fitness instructor at Nuffield Health and Fitness Wellbeing Gym on Knights Park Leisure Park and a run leader for Runtogether.
"It's usually felt in the main parts of the muscles. Typically after running these are the thigh, calf and buttock.
"If this is fairly symmetrical in nature and settles within a day or so, then it's usually nothing to worry about.
"Often doing some gentle exercise of a different nature the following day, for example cycling, swimming, yoga or core exercises, will help relieve the discomfort.
"But doing another hard session when you have these tired and fatigued muscles can contribute to injury."
Pain that is sharp in nature, located in a joint and one-sided, can be a sign that there is something not quite right.Â
Swelling or heat in and around a joint is also an indication that your body is suffering from an injury.
Resting and taking anti-inflammatories or putting ice on the affected areas is a good place to start, but this may mask a potential problem.
If you have pain that occurs from the moment you start to run and persists, then it's probably a good idea to hang up your running shoes for the time being.
"This would be the time to seek some professional help, such as seeing a physiotherapist," advises Jane. "They are specialists at not only diagnosing the condition but also helping to explore the underlying causes.
"They will help to plan an exercise program to target any specific weakness and/or tightness that often occurs with running."
If, however, the pain develops toward the end of the run, then it is quite possible that your muscles are fatiguing and your technique may be breaking down.
This can be helped by managing your training distances, like running shorter distances, and adding some core and strengthening exercises to your program. Physiotherapists and personal trainers can help here.
"If you are unsure whether you should run on race day, if you have been battling with an injury, then you have to be honest with yourself and your body," says Jane.Â
"If it is painful to walk, then hoping to run pain free is not likely to happen. It's not a good idea to 'push through' localised joint pain.
"Remember, you only have one body, but there will be plenty of other races."