It's local history month and to celebrate we're bringing you some quirky tales from throughout Tunbridge Wells' history, thanks to writer Anne Carwardine. You can find this story and more on her history blog�Tunbridge Tales.�
Anne's book 'Disgusted Ladies of Tunbridge Wells' is available now online or from local bookshops.
1834 – The Royal Visitor
On August 5th, the day fifteen-year-old Princess Victoria arrived in Tunbridge Wells, the town had a holiday atmosphere. From early morning the streets were packed. Flags flew above many buildings. Church bells rang out. Bands played the national anthem and other patriotic tunes. Finally a troop of yeomanry (volunteer soldiers) rode into town, followed by the royal carriage. Victoria and her mother, the Duchess of Kent, nodded and smiled as a the crowds waved and cheered and a long line of young girls in white dresses scattered flowers on the road in front of them.
�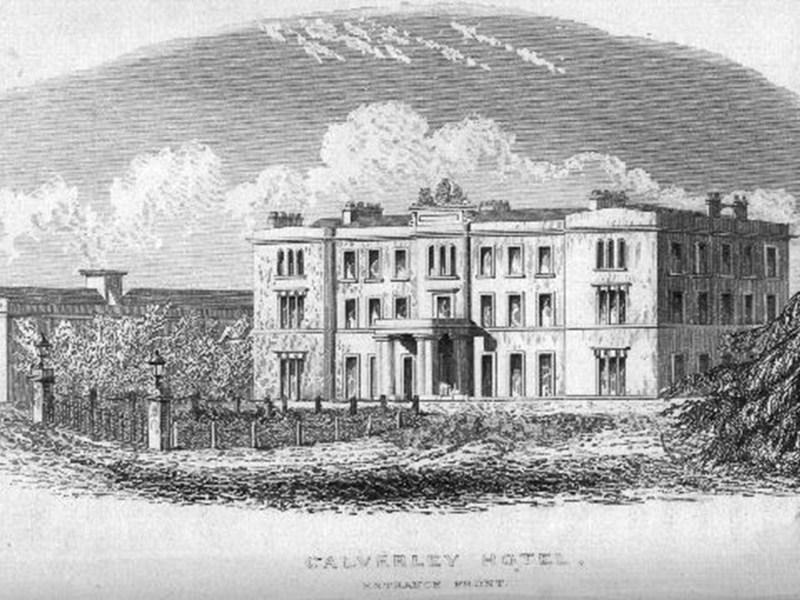 Calverley Hotel, previously Calverley House, in 1840. These days it is the Hotel du Vin.
The royal party had rented Calverley House, a large property overlooking Calverley Park, which had been furnished especially. Within an hour of their arrival there was another chance to get a good look at the visitors as they headed out in an open-top barouche, to drive round the town and take a look at the changes since they were last here, six years earlier. In the evening the town was lit up by coloured lamps and illuminated signs, depicting the royal arms and welcoming messages, outside hotels, shops, public buildings and private homes.
Victoria's diary shows that her time in Tunbridge Wells was taken up with a full programme of horse-riding, music, taking the waters, walking (in the town and in the surrounding countryside), shopping, attending church services, entertaining and paying visits.
This was a period when her life was strictly regulated by her mother and her mother's private secretary Sir John Conroy, both of whom hoped to continue controlling her once she became Queen. They made sure she was never alone – everywhere she went the Princess was accompanied by a group of people, usually including her mother, Conroy, one of his daughters, her governess (referred to as 'dear Lehzen' in her diary) and Lady Flora Hastings (whom she was not so fond of). Only when she became Queen three years later would she escape this sort of supervision.
Circling the Common was a racecourse, where a meeting was held over two days each summer. On the 21st and 22nd August Victoria attended this year's event. An awning, decorated with the royal arms, was provided to stand over� 1834 Race adverther carriage, protecting her from the hot sun. Around it was an arrangement of shrubs and a roped-off enclosure, to prevent curious locals from getting too close. Victoria made a pretty picture in a white muslin pelisse (coat) lined with primrose-coloured silk and a white bonnet trimmed with roses. She stayed for around four hours on each of the two days, giving her a good chance to observe a wide range of her future subjects – including streetsellers, beggars, musicians and actors – relatively close at hand.
�
Most of the Tunbridge Wells racecourse's route is still visible as a broad footpath or bridleway.
In recent years there had been drunkenness and fighting at the races, but in 1834 Victoria's presence meant that they were policed more thoroughly; no gambling booths or encampments were allowed on the common and booths selling food or drink could only be set up by local people. It was also announced that any dogs who strayed onto the course would be destroyed. The event passed off well; over 16,000 people attended and there was little trouble. According to her diary, Victoria was 'very much amused'.
On November 3rd, after a stay of almost 3 months, the royal party moved on to take in the sea air at St Leonards. In her final diary entry Victoria wrote: 'As we came down the common we took a sad parting look at dear Calverly House where we passed such pleasant days. How quickly the pleasant time has flown! I hope the time may not be far distant when we shall revisit dear Tunbridge Wells again. The country is so beautiful about it; and the rides are so delightful and so are the walks'.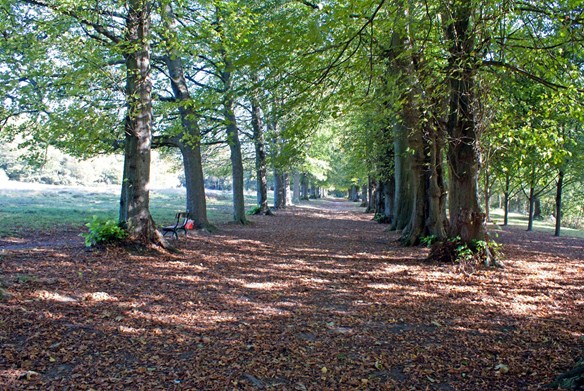 Royal Victoria Grove was planted in 1835 in honour of Queen Victoria's visit to Tunbridge Wells
The following February the people of Tunbridge Wells decided to honour their royal visitor; 132 Elms, Limes and Sycamores were planted in three rows twelve feet apart and named The Queen's Grove (later known as the Royal Victoria Grove). Victoria was able to inspect it when she made another visit to the town in 1835.
Notes:
Tunbridge Wells, which had a resident population of 5,929 in 1831, was not a large town at the time of Victoria's visit. However its population was expanded by large numbers of visitors during the summer months.
In 1845 the town's inhabitants petitioned for the annual race meeting to be discontinued, due to drunkenness and rowdy behaviour, and races ended in 1851.
Victoria's diaries are available at www.queenvictoriasjournals.org.