The lowdown
The Mount Edgcumbe occupies a pleasingly tranquil spot on the lower Common in Tunbridge Wells, and is just a short walk from Wellington Rocks and Mount Ephraim. The Grade II listed family-run restaurant, which also boasts six boutique bedrooms, has undergone a very stylish and successful refurbishment since its current owners, Robert and Sally Hogben, took it over in 2012 and it's now one of the area's most popular places to dine – or simply sup a pint.
The ambience
Inside, its bijou dining area sports all the hallmarks of rustic chic – think scrubbed wooden tables with mismatched chairs, exposed brick walls, squishy leather sofas and fairy lights festooned about. Its unique sandstone cave, tucked away in the entrance area, is ideal for a cosy date or pre-dinner drinks, while upstairs the private dining space is also intimate, stylish and convivial to good times.
Last but not least there's the really welcoming alfresco terrace, with tables and private huts, which overlooks the Common. It has been extended and upgraded over the years and is now the perfect spot to sit and sip a glass of something chilled when the sun is shining in Tunbridge Wells.
A taste of things to come
The Mount Edgcumbe describes its extensive menu as being 'British-European Gastro' and at first glance there's certainly a good variety of home-grown and more exotic dishes to delight your taste buds.
As well as a variety of Mediterranean inspired offerings such as homemade hummus and pitta bread (£4.25), marinated chicken skewers with yoghurt dip (£6.50) and halloumi with couscous salad (£13.25), there are also many classics including Harvey's beer battered haddock and chips with mushy peas (£13.95) and a 10oz ribeye steak (£22.95).
There's also an impressive selection of sharing boards – from seafood options to vegan – so my dinner guest and I feel pleasantly overwhelmed by the culinary choice on offer.
'Our two first courses have been so enjoyable we know a little sweet treat will be the perfect way to finish our Mount Edgcumbe meal'
Under starter's orders
When we're finally ready to order starters I go for the chilli salted squid with sweet chilli dip (£7.75) while my friend opts for the vegan spiced potato balls with homemade ketchup dip (£5.95). They arrive pretty swiftly – despite the main dining area being packed – and they are generous in size.
My squid is gorgeously golden and deliciously light with just the right amount of batter. The bitesize portions are pleasingly peppery and further enhanced by the sweet dipping sauce served alongside. My guest seems equally happy with her choice; describing it as 'flavoursome and incredibly moreish'.
The main event
We've both ordered a large glass of San Antini Pinot Grigio Blush (£6.75) and the wine's delicately floral character proves to be a good choice for both our starters and now for our fish mains, too.
My dinner date has chosen the Shetland mussels with a tomato and chilli sauce (£13.75), which comes with slices of chargrilled sourdough instead of traditional chips. She describes the plentiful portion as 'boasting a subtle taste of the sea entwined with fresh, piquant tomato flavours, fragrant basil and tingle of chilli.' And despite the sheer volume served up, the dish itself is surprisingly light.
My choice of swordfish with ratatouille and chilli cucumber salsa (£16.75) is also a tasty triumph with the fish perfectly grilled on the outside and its inner meaty flesh smooth and salty. The accompanying rich ratatouille vegetables and piquant salsa gives it additional depth of flavour, and if I close my eyes I could be sitting in some hip beachside café in the south of France enjoying it.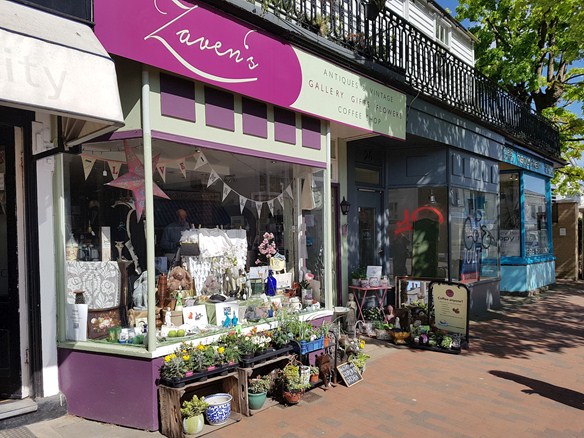 Sweet temptation
When our friendly waitress asks if we'd like to see the dessert menu we both immediately respond 'yes!' Our two first courses have been so enjoyable we know a little sweet treat will be the perfect way to finish our Mount Edgcumbe meal. Again, there's a good choice of both English and European choices for hungry diners to savour including apple tart with vanilla ice cream (£6.75) and vanilla panna cotta with blackberry coulis and shortbread (£6.50).
I like the sound of the Speakeasy alcohol infused ice cream with spiced rum but only have room for a single scoop (£1.75). It's subtly boozy and creamy and accompanied by an espresso it's a perfect palate pleaser. My friend indulges in the espresso chocolate cake with clotted cream and a decadent chocolate sauce (£6.50) but is soon defeated by the sheer size of it.
On the way home we're already planning another visit to this charming establishment. The upcoming Bank Holiday weekend might just be the ideal time to return – let's just hope the sun shines so we can sit and soak up the rays on The Mount Edgcumbe's sublime terrace this time.