Lizzy Yarnold became West Kent's second double Olympic gold medallist when she defended her skeleton title at the Winter Games in Pyeongchang on February 17.
The 29-year-old from Sevenoaks joins distance runner Dame Kelly Holmes of Hildenborough, who won two golds in Athens in 2004. Yarnold had already been awarded an MBE after her success in the previous Winter Olympics in Sochi four years ago – and is surely in the running to become a dame too.
As the first to win back-to-back gold medals, she became Briton's most successful athlete in the history of the Winter Olympics. She grew up in West Kingsdown and attended St Michael's Prep School in Otford before going on to study at Maidstone Grammar.
She tried her hand at the heptathlon and was a keen horse rider. At the age of 20 she took part in UK Sport's Girls4Gold talent scheme hoping to compete in an equestrian sport, but the governing body identified her as a skeleton prospect. She moved to Bath, where the GB team is based, and two years ago married James Roche, an engineer who helped to design her sled.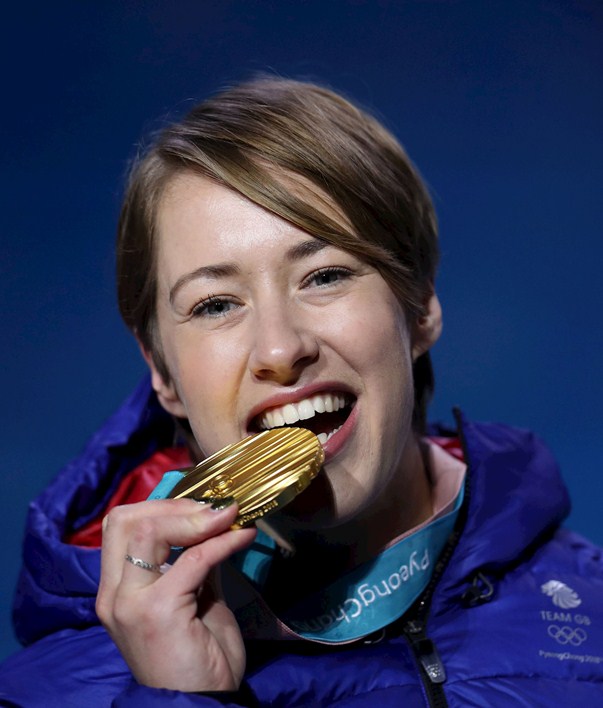 After her success in Sochi, Yarnold completed the grand slam by becoming European and world champion in February and March 2015. But she decided to take a year off in order to be in peak condition for the South Korean Games, missing an entire season because of burn-out.
Her remarkable performance in South Korea was all the more remarkable because she had a chest infection and considered withdrawing halfway through after suffering dizzy spells. 'After the first run yesterday I was almost at the point of pulling out. My chest infection was stopping me from breathing,' Yarnold said.
'I just tried to get the second run down and then fight another day today. If it wasn't for my physio Louise Turner telling me to go down again, I'm not sure I would be here today.' Her mother Judith, who was watching in the stands as part of the 'Yarny Army', told the BBC how worried she was about the illness.
'I got really scared after her first run, you might have noticed that it really wasn't right,' she said. 'She had trouble standing up and she just wasn't able to breathe, to get the air in. We were trying to smile, trying to look relaxed. Lizzy revealed she celebrated with three hours sleep followed by a knitting session in front of the TV, watching Miss Fisher's Murder Mysteries.
'I was knitting this morning and that was quite calming,' she said after receiving her gold medal on Sunday. 'I woke up really early as I'm not sleeping very well at the moment. 'I didn't really know what to do but Netflix and chill and do a bit of knitting. I'm only doing strips because I can't do a pattern, it's too complicated.
'It's a nice thing because my nan taught me how to knit years ago and she passed away a few years ago so it's something I can do and feel connected to her.' Judith says a damehood would be 'fantastic' but her father Clive is hoping for more: 'Dame Lizzy and a gold postbox is what we need. We didn't actually achieve it last time, so a gold postbox please sir, to the people who paint them.'