THE West Kent Sunday Football League (WKSFL) celebrated its 50th anniversary after the Senior Cup final at Tonbridge Angels' Longmead stadium on Friday (May 5).
Players past and present were invited to attend the match between Simla and Tonbridge Origin, and the prizegiving afterwards.
At the ceremony special -commemorative medals were presented to Stuart Turner, the 76-year-old WKSFL Chairman, and Reg Mackleden, 82, President and Treasurer, for half a century of service each – a full 100 years between them.
Stuart recalled that when the league launched in 1967, Reg had told him: "Football should not be controlled by old fogies." Little did they know that it would still be them in 2017.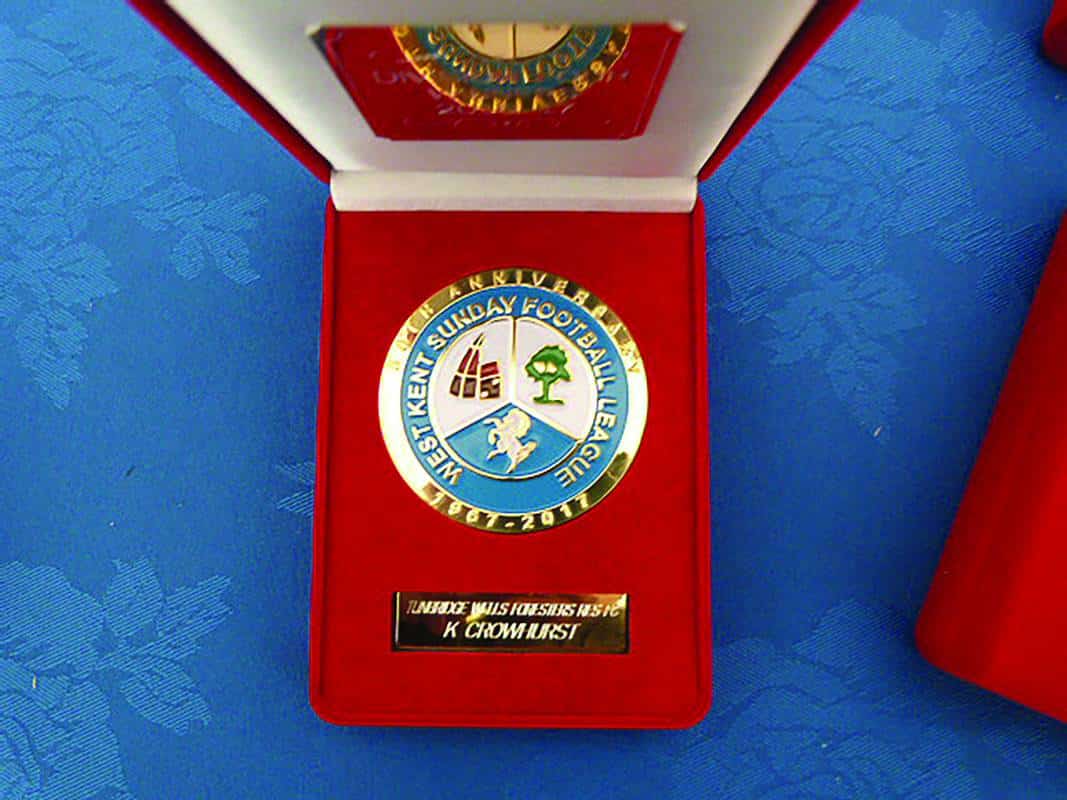 The Sunday league can still boast four divisions of 35 teams, despite the decline in football across the region, which has been documented in these pages ahead of the imminent demise of the Tonbridge & District League on Saturdays.
Stuart is all too aware of the precarious nature of the game. "Grass roots football is dying, the Saturday league has folded and they've been going for 120 years," he says. "The kids don't want football anymore, with all these machines they've got to play on.
"Then when they're older they go out on a Saturday night and they come in at four in the morning, wake up with a thick head and don't want to play. There is no cure, no answer."
Technology can be as much to blame among the adult players – for different reason.
"It's too easy now to come home the worse for wear on a Saturday night or early Sunday, and all they have to do is send a text and they don't even have to talk to anyone.
"Secretaries wake up on a Sunday morning and see all these text messages and they have to start all over again finding a team."
There are the other pressures of modern life to contend with. "We have 1,200 players registered and 400 would make up a full league of teams, so where are the other 800?" asks Stuart.
"Social lives have changed, people have to work on Sundays, that's one of the excuses that the Football Association comes up with.
"These are the facts the FA throws at us. They say they've got all these schemes that they are going to throw money at but not much happens."
'How did we manage to run 90 teams without email or mobile phones?'
The league started with 13 clubs in Tonbridge, Tunbridge Wells and Crowborough. By its heydey in 1981, there were 96 clubs in eight divisions.
"How did we manage to run 90 teams without email or mobile phones?" wonders Stuart.
"In those days there were those who played on Saturdays at a high standard and were not tied to a contract or agreement with managers not to play on Sundays so they would turn out both days."
Stuart's playing days were relatively short-lived. "I played two seasons for one of the big firms in Tunbridge Wells, Leroy Tours – who organised European coach tours before package deals started. We were hopeless, we lost our first match 18-0 to Rusthall New Town."
He recalls that some teams were powerful for several seasons while others had the talent but did not translate it into success.
The Blue Boys out of Pembury were strong for a few years. Then Sussex Shades, based in the Sussex Arms in Tunbridge Wells, were dominant in the 1970s and '80s. "Everyone wanted to play against them – whereas now the rest get scared."
Stuart adds: "The Bristol Arms [now the Guinea] were one of the big underachievers in the early years – they had very good players but they didn't win much. There was Jock Munn, he was a bit of a naughty boy, and then there were others like Archie Thorburn."
Some things never change, it seems, in Sunday football. "The nightclub Surf City, which became Tropicana [and subsequently Chez Moi and Coco Lounge] was just over the road from the Bristol and it was the only club in town. That might be why they didn't win very much."
Although the WKSFL is seeing the number of teams decline, they still enjoy a strong level of competition because there are few alternatives.
"We're lucky, in a sense, because we have no competitors and no one is going to attract our players. The nearest Sunday league is in Maidstone. But we are on a downward spiral."
West Kent Sunday Football League Senior Cup final
SIMLA beat Tonbridge Origin 2-0 to win their fifth Senior Cup in the last six seasons.
They were always on top once Steve Smith opened the scoring after just seven minutes.
Four minutes into the second half Smith had a shot well blocked by Sam Jenner, but the loose ball fell to Ian Parsons who slammed it home through a mass of players.
Jenner in the Origin goal kept the score down and produced a fine one-handed save to deny Smith near the end, but to no avail.