On entering the Boat House Bistro, Bewl Water's new gastro venture, I immediately feel relaxed.
Its stunning views of the tranquil reservoir below with windsurfers gliding gently by on it instantly destress and make me smile.
Then there's the elegant restaurant itself. With its chic grey décor, exposed brick walls, impressive vaulted ceiling and sailboat sculptures dotted about the place, it chimes in perfectly with its nautical surroundings.
If the food is as good as this place looks then I'm in for a treat.
As the maître d' shows my lunch guest and I to our smartly dressed table it's hard to believe this corner waterside calm is just a few minutes away from the hustle and bustle of the A21.
Granted, the early summer sunshine helps to enhance the appealing ambience but even on a drizzly day you feel that this space with its beautiful vistas, soothing colour scheme and cheery artwork on the walls (by local painter Elizabeth Pangrazi-Simpson) would instantly lift the spirits.
While perusing the menu, which is a mix of British classics – think beer battered hake, panfried trout and slow cooked beef ribs – peppered with the odd European twist such as homemade gnocchi, we are greeted by a friendly waitress who takes our drinks orders.
Once we're happily sipping a glass of chilled Italian Pinot Grigio Blush it's time to stop ruminating over all the things we'd like to eat and actually get down to the business of editing our choices to a starter and main each.
But then we spot the tempting bread selection which, with its choice of roasted garlic bulbs, aubergine baba ganoush and feta and beetroot dips, sounds just too good to resist.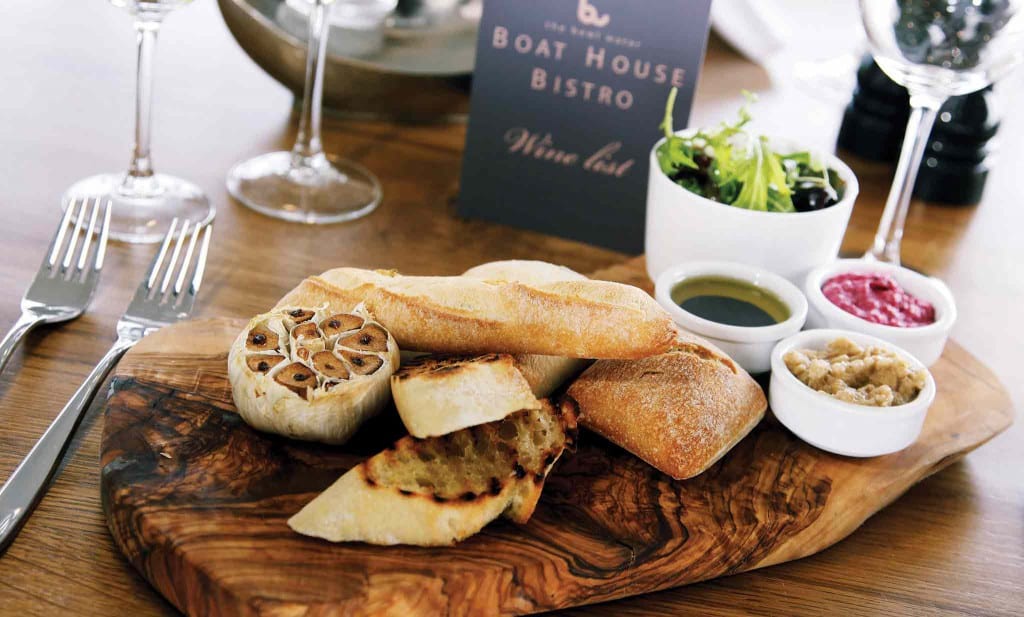 While we nibble on chunks of crusty focaccia and aromatic olives we continue deliberating over our selections. Eventually I decide that the seared Rye Bay scallops sound too good to pass up on but my lunch guest is still torn between the creamy crab and crayfish risotto or the charred local asparagus.
She finally opts for the latter convincing herself it will be a lighter alternative if she is to plump for the spice-rubbed sirloin steak and big chips. I decide to go for the home-smoked rump of new season lamb and put down the menu before I change my mind – again.
Given this is a Thursday lunchtime the Boat House Bistro is relatively busy. Word is obviously getting around that if you want a delightful dining experience away from busy daily life then this is the place to come. A group of laughing ladies sitting on the sunny balcony outside and tucking in testifies to this. They too are clearly enjoying the relaxed vibe of this waterside eaterie which, when the weather's as clement as this makes you feel like you're on holiday – albeit for only an hour or two.
Our starters swiftly arrive after another round of drinks has been ordered. I opt for a palate cleansing sparkling water while my friend chooses a glass of crisp Chilean Palena Sauvignon Blanc to go with her asparagus.
In keeping with the Boat House Bistro's focus on aesthetics, the food we are presented with looks like a work of art with swirls of sauce and sprinkles of aromatic seasoning adding the finishing touches.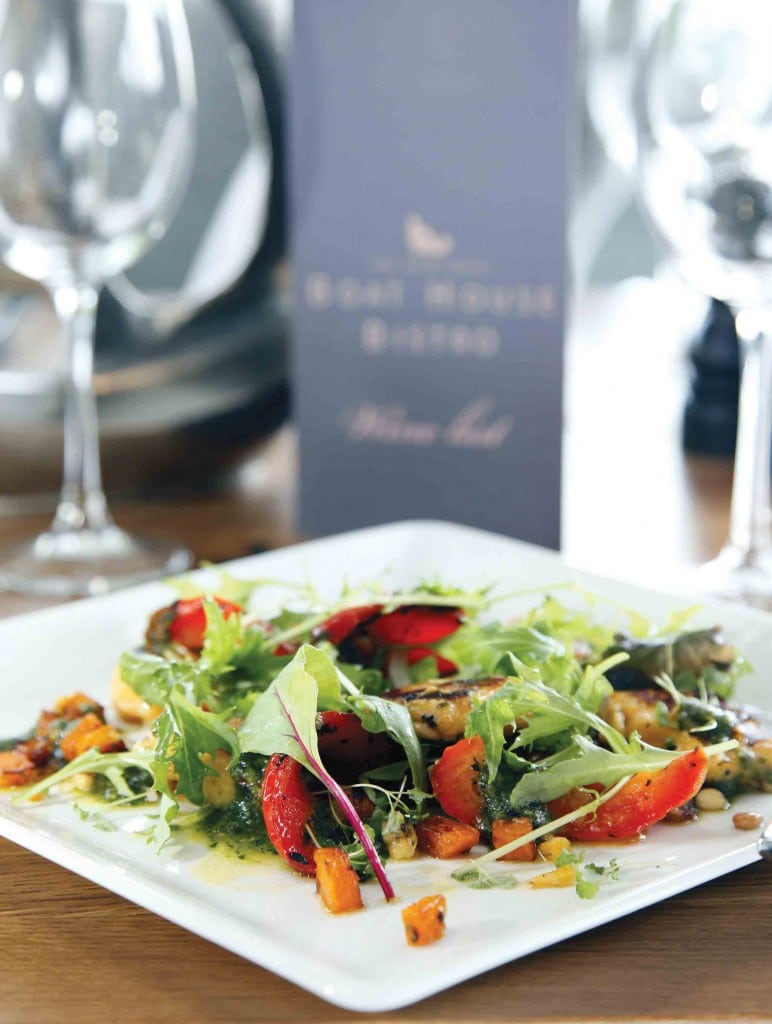 My two generously sized seared scallops are partnered with a lightly spiced butternut squash purée and dashes of citrus chilli salt which give the delicate scallops a pleasant hit of heat.
The chargrilled asparagus spears don't disappoint either, they are perfectly al dente, and vibrantly green. My friend comments that the rich tomato and parmesan Romesco sauce that accompanies them makes for a pleasant change to the usual addition of shavings of parmesan.
Once our cutlery can scoop up no more morsels it's time to relinquish our plates back to the waitress.
At a nearby table, a couple are cooing over their 'ham, egg and chips'. I have to admit when I saw this dish on the menu it seemed a little out of place alongside the other gourmet offerings but when I discover it's a clever reinterpretation of the classic containing a stack of ham hock terrine, posh egg mayonnaise and jumbo latticed homemade crisps I decide it definitely deserves its place on the menu.
Just as our appetite starts to surface once more the main courses are brought out and once again they are utterly fantastic to look at. Head chef André Woodward is clearly as passionate about presentation as he is the quality of the fine ingredients he works with.
My rump of new season lamb, adorned with some red currants on top, is complemented with slow roasted potatoes which instantly soak up the rich, smoky jus that accompanies them. The knife slices through the meat like it's butter, it's that tender.
The sirloin steak is equally as good and served with a chunky peppercorn sauce which my friend allows me to try along with one of her big chips which are perfectly crisp on the outside and fluffy on the inside. 'They're like the best Christmas day roast potatoes ever,' she quips full of contentment.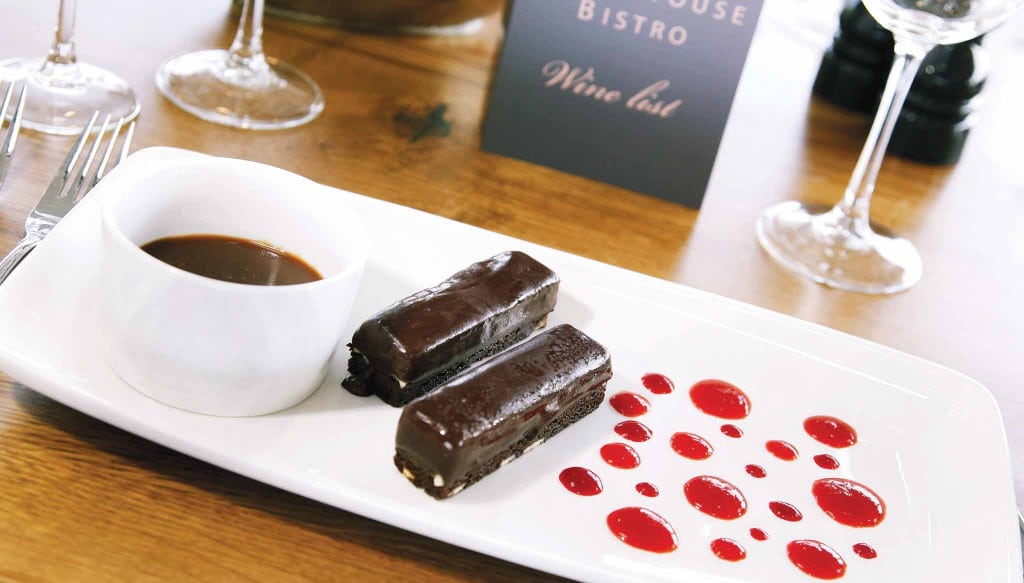 Although we're both feeling pretty full by now it takes just one quick glance at the tempting desserts menu for our will power to quickly ebb away.
We decide to share one of the Bewl Eskimo Bars as the combination of dark chocolate brownie, vanilla ice cream and salted caramel sauce sounds far too good to resist.
As we slowly savour these chunks of chocolate heaven we decide that Boat House Bistro is our new 'go to destination'. Not just for its delicious food and stylish ambience but because it provides its customers with that priceless feeling of being relaxed, content and like the real world is a million miles away.
TASTER MENU FOR BOAT HOUSE BISTRO
Starters are priced from £5.95 for the Boat House soup of the day and go up to £9.95 for the Rye Bay scallops.
Main courses start from £10.95 for the Bewl burger and Beer battered hake. The sirloin steak is the most expensive item on the menu and costs £20. Desserts cost £6 each and ice creams are £1.50 per scoop. The local cheese board is priced at £7. House wine costs £16 a bottle, Prosecco is £19 and champagne starts from £40
The Boat House Bistro: Open from Wednesday to Sunday from 12-9pm. Closed on Mondays and Tuesdays, except Bank Holidays