Jon Bond visits Juliets, the ever-popular eatery in Tunbridge Wells.
Famed for its fresh and frequently updated menu, Juliets is so popular that it's not unusual to see queues outside the door. The menu features fresh ingredients and is updated regularly to reflect this. It's also a top choice for allergy sufferers and those with alternative diets, with a clear menu and plenty of choice.
We had:
Although I'm not vegan (or vegetarian, for that matter), it is the special of the day, sweet potato toast (£7.55), that piques my interest from the menu. It is gluten free, dairy free and vegan, so there is no excuse not to. Making the decision isn't easy though- the menu is so perfectly attuned to my tastes it almost feels personal.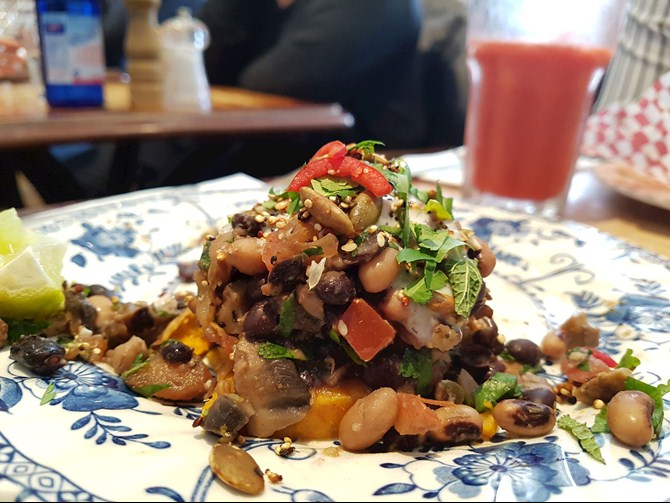 Sweet potato toast isn't actually toast, but beans piled upon a bed of perfectly cooked, creamy sweet potato. The ingredients list is intimidatingly long: toasted sweet potato, smashed cumin infused black beans, roasted portobello mushroom, tomato & lime topped with a zesty mustard soya yoghurt, finished with sprouted mung, alfalfa and toasted seeds. There may be lots to it, yet every one of those is worth it; not a single flavour is lost, and the portion size is perfect for lunch, with beans cascading over the succulent sweet potato, but not so filling that you couldn't get cake after!
I am here for a lunch meeting, so I only have time for a main, but glimpsing at the cakes while paying has guaranteed my return in future. There are cakes for everyone, including vegans, which means those with egg allergies don't need to miss out.
We thought:
Juliets is small and intimate, giving the place a great buzz and atmosphere. Every plate and cup is unique, which is charming and rustic, and this is encouraged all the more by a 10% discount on drinks for bringing your own cup. Allow time for cakes, because the moment you see them you'll struggle to resist.
The menu updates regularly. You can find the latest on Juliets' website:julietsandmore.com