Jon Bond heads to Southern Italy (well, as good as) with Il Vesuvio
Having been in Tunbridge Wells for more than two decades, Il Vesuvio has a spectacular reputation among the town's residents, which is undeniably thanks to its authentic homely atmosphere and spectacular hosts in Maria, Franco and their team. Their menu is as Italian as you could hope for, and has so much on offer you'll struggle to pick just one thing.
We had:
It is thanks to a long-running craving for a great fish dish that I have come to Il Vesuvio, as their dedicated 'Pesce' menu instantly has my mouth watering. When I sit down and open the menu, there's so much on offer that my classic indecision kicks in. Instead, I venture to the pasta menu, and order the 'Spaghetti Ai Frutti Di Mare'. I'm worried it may have been the safe choice, but when it arrives, I am so pleased with the decision I have made.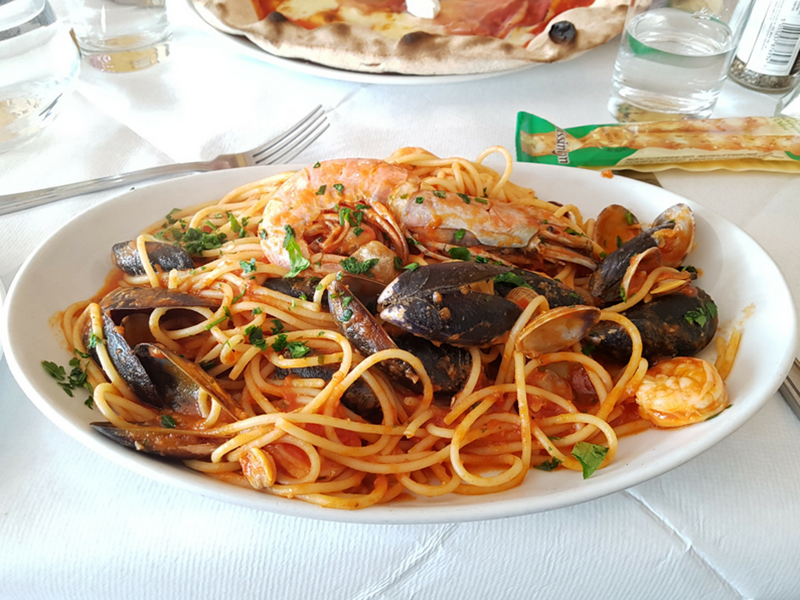 Frutti Di Mare is not a first-date dish, that's for sure! With the biggest prawn I have ever seen, delicately balancing above mussels, clams and squid, I send tomato sauce flying with my spaghetti-slurping and shellfish slinging.
'Slow down!' demands my partner. No chance. It's so good, I finish the lot in record time. At £11.95, you get a good deal of fresh seafood for your money, and the dish cuts no corners when it comes to flavour.
To finish the meal we enjoyed coffee, which Maria assured us would absolutely be worth it: 'It's the best coffee in Tunbridge Wells!' This town has many, many coffee shops, but she might not be wrong. It's good, strong stuff, and a small cup kept us going without the hint of an afternoon slump.
We thought:
We were early for lunch on an uneventful Saturday, but the restaurant was still abuzz with atmosphere. The staff were friendly and extremely helpful, and no meal would be complete without a chat with Maria, who is unbeaten in town for character.
http://www.ilvesuvio.co.uk/index.html