Alex Houlton opened his interiors shop specialising in fabrics, wallpapers and awnings earlier this year. Yet despite being a relatively new business, One The Pantiles is building up a loyal and local clientele who love the shop's unique range of soft furnishings and beautiful, bespoke blinds
How long have you been running your shop?
We are a new business in Tunbridge Wells and opened our doors to the public at the beginning of May this year.
What was the inspiration behind it?
Quite simply, it's to do what we love, in the way we love to do it. Our team here is passionate about soft furnishings and interior design. We all have industry experience and have channelled our energy and passion into something quite special.
How many shops do you have?
One The Pantiles Interiors is our first one, however we are looking to open product-specific showrooms in the future, such as a store that specialises in motorised blinds.
Why did you decide to open a shop in Tunbridge Wells?
It's is a wonderful place to live and work. The local demographic is a good one for the soft furnishings industry, and there has always been a gap in the market for a blinds and shutters specialist in the town.
Do you have regular, returning clients?
We have only been open a short while but we are already building a loyal customer base, gaining a lot of repeat business and referrals from customer recommendations. They seem to warm to our honest and relaxed approach. We win business through offering good advice and helping people without imposing a hard sales technique. Our measure and advisory service is free of charge and we are always happy to discuss options to suit any budget – there is never an obligation to place an order.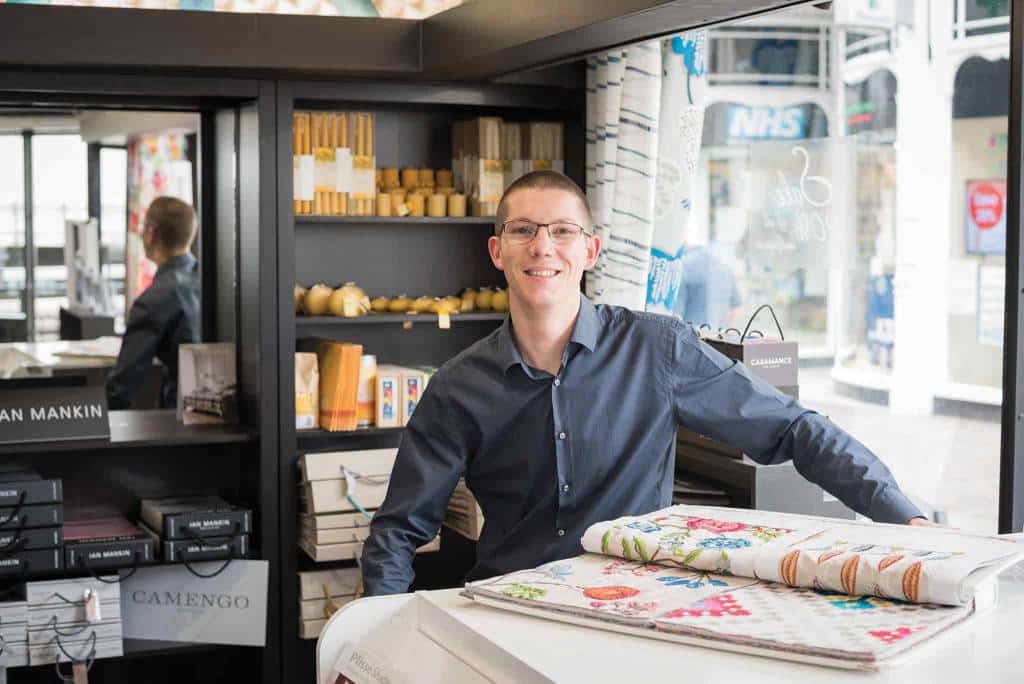 Which brands do you sell?
We are the main Luxaflex Inspiration dealer in Tunbridge Wells, and they offer a full range of bespoke and motorised window blinds. Wooden plantation shutters are currently very popular and we source these from the industry leaders S-Craft.
In terms of our fabrics, we stock brands such as Ian Mankin, Voyage, Casamance, Casadeco, Camengo  and James Hare.
What inspires your buys?
Our intention is to offer the best quality available as well as a good variety of designs. We source fabrics from smaller mills and patterns from all around the world. This month we are introducing three French print designers with a wonderful new collection to the UK market – so watch this space!
Is your approach hands on – do you go out and meet clients at their houses?
We visit customers' homes to advise them on the best products for their schemes, both practically and aesthetically. That way we are assured to meet all their requirements. We also offer a highly experienced and professional installation service to ensure everything is properly fitted, functional and optimally dressed.
How many staff do you have?
We currently have six employed staff and a team of freelance makers and fitters. Everyone who works with us is highly experienced in the soft furnishings market and has been well trained.
How do you like working in The Pantiles and why?
It is an amazing place to work. There is a wonderful community spirit amongst local traders, and it's just a wonderful place for our customers to leisurely browse pattern books and deliberate over designs while enjoying a nice coffee or lunch at one of the many fabulous eateries nearby.
What do you think is secret to successful trading in Tunbridge Wells?
The demographic here is perfectly suited to the products and services we provide. There is a high level of home ownership in Tunbridge Wells, with the average home valued at £600K.
The residents of West Kent are amongst the highest earners in the county, and we are fortunate that there is a strong demand for good quality, bespoke window treatments and interior decoration products.
What would you say sets you apart from the rest of the interior shops in Tunbridge Wells?
We have a different take on servicing our customers. The showroom has a contemporary, edgy vibe, and we boast a wealth of industry experience with a flair for design and deliver it in a modern way. Customer experience is always at the forefront of everything we do.
I guess you could say we are the Apple of soft furnishings!
One The Pantiles, Tunbridge Wells, TN2 5TD
Tel: 01892 549 933
info@onethepantiles.co.uk
---
If you run a business based in The Pantiles and would like us to feature it in our special monthly newsletter, then email info@timesoftunbridgewells.co.uk with your contact details. Please note, only independent traders operating in The Pantiles area can be featured in Pantiles News