Planning permission has been granted to build the £90million Civic Complex and theatre on land next to Calverley Grounds.
Tunbridge Wells Borough Council's nine member planning committee voted unanimously in favour during a heated meeting yesterday [Wednesday, May 9].
Their decision, made after a lengthy debate, has put plans further out of reach of opponents committed to stopping the development.
The committee, formed entirely of Conservative Party members, made the approval despite 148 objections being raised during a public consultation, and only eight comments in favour.
The project is the ambition of leaders of the borough council who hope to boost the town's economy by adding to the cultural pull of the town.
At the meeting Cllr Bob Backhouse, led calls in support of the project, which would house a 1,200-seat theatre, council chambers and offices upon its projected completion in 2022.
He said: 'We are going to have a cracking theatre that will be tremendous for Tunbridge Wells.
'It will have enormous potential for economic growth, with more footfall for adjacent shops and the High Street.
'The theatre will provide jobs and apprenticeships for people with a theatrical interest and the Town Hall site will provide office space for about 80 to 100 staff.'
Critics have described the complex as unnecessary, too expensive, not part of a masterplan and damaging to its surroundings.
Planning committee member Cllr James Scholes has previously rebelled against his party's policy by voting against the plans.
But purely on planning grounds the Tory said he had 'no reason to refuse it' despite registering his 'reservations'.
Refusal always looked unlikely with the majority of committee members having already voted in favour of RIBA Stage 3 plans in a meeting last December.
There was some disgruntlement the meeting had been arranged only a week after the borough council elections, which saw three previous committee members stand down.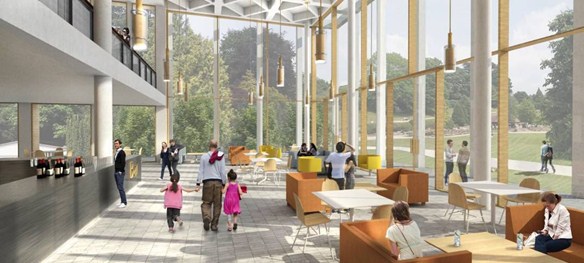 Cllr Linda Hall, who has opposed the development in the past, was not present at the meeting, nor was Cllr Barbara Cobbold.
Now planning permission has been granted, the developments come thick and fast.
'We are going to have a cracking theatre that will be tremendous for Tunbridge Wells" – Cllr Bob Backhouse
The next architectural design plans [RIBA Stage 4] will be drawn up and work packages are likely to go out to tender within weeks.
The council will also be in negotiations with Hoopers department store over a possible compulsory purchase order of land for access.
Before construction begins in October 2019, a legal challenge could be made, offering perhaps the final opportunity for the project to be stopped.
Long-time opponent Bob Atwood, Chairman of Tunbridge Wells Alliance, also spoke at the meeting.
He said: 'There is little evidence that the proposals will deliver cultural and social benefits and that it will have an impact on the local economy.
'It is hugely expensive and if this was a third party's plan [rather than the council's] there is no doubt it would be turned down.'
The BBC and Sainsbury's have also come out against the Civic Complex during the consultation stage, stating their concerns about noise and dirt from construction.
Other firms, however, including developers British Land and Altitude, have registered support.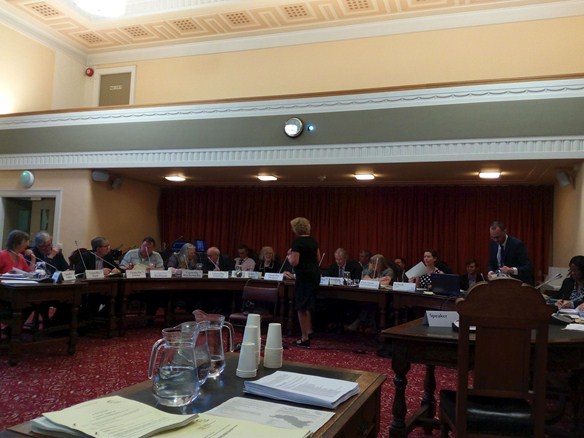 At the meeting Karen Pengelly, of business connecting group Royal Tunbridge Wells Together, said: 'Our members unanimously expressed their support and said it would reflect a positive investment in the town.
'They were particularly supportive of having more office space. Our town is losing businesses, not because they want to relocate, but because they cannot find space.'
Although the design will not be voted on by the council again it is likely to be discussed in meetings.